Instructions
• A Teacher will have to fill up his posting details like District, Block, and School in which he /she is currently serving.
• Select his/her Name from the List box
• Enter his/her Date of Birth for verification of correctness of the teachers identity.
• He/she has to provide a mobile number for all future communication regarding the Login ID, Status of his application etc through SMS push service.
• An OTP will be send to his/her mobile for mobile no. verification and OTP will be verified by the system instantly.
• After that he/she has to choose teacher category and marital status from the list box.
• Provide Date of Joining for verification of eligibility of transfer,it should be:
• 6 years after joining into Govt. service or as Regular Teacher.
• Once Transferred, minimum period for applying another transfer is 5 years.
• Fill up his/her posting details since joining as Regular Teacher.
• After that select transfer category from the list box and provide respective certificate for further reference.
• If the Category is 'Mutual Transfer then both the concerned teachers must fill up the details as mentioned below
• he/she has to specify district, block, school and teacher's name of target teacher.
• For other transfer category except 'mutual transfer' fill up transfer type i.e intra block, intra district, inter district according to the preferences
• After filling all the field click submit button.
• On Submit, an acknowledgment sheet will be generated and the Application ID will be sent to his/her mobile.
• Keep that acknowledgment sheet and application id to keep track of status of your application.
• Submit the printed form of acknowledgment sheet to BEO for further processing.
How to apply online
1.Click 'register online for request transfer' in home page
2.Fill up personal details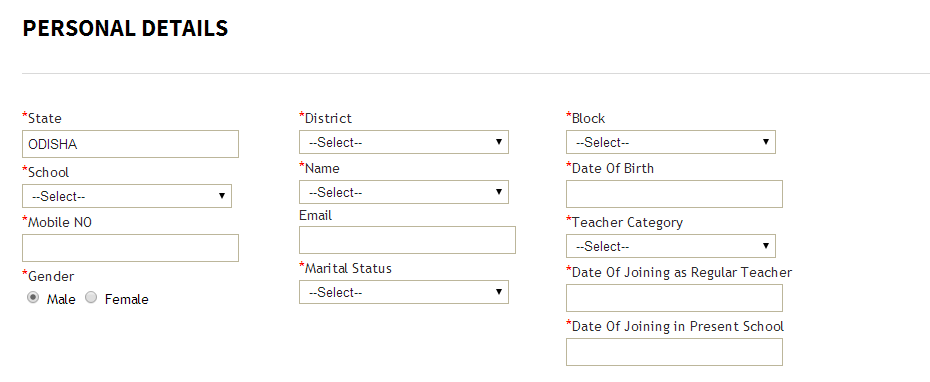 3.Fill up experience details

4.Choose transfer category and upload relevant certificate

4.a) If the category is mutual transfer then fill up the details mentioned
4.b) For other category except mutual transfer then fill up transfer type mentioned
i)for intra block
ii)for intra district

iii)for inter district
Back To Home